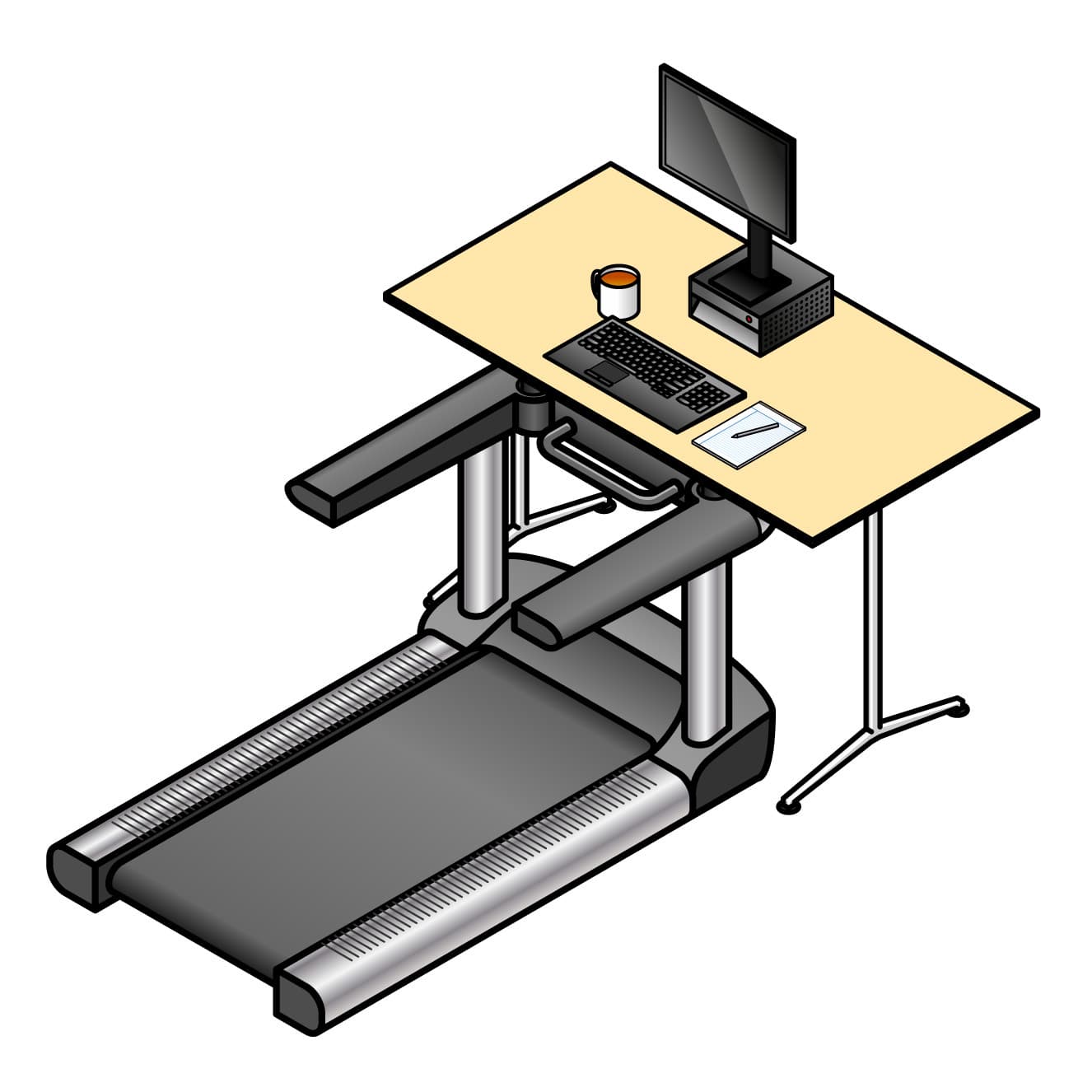 In light of the coronavirus pandemic, there are large numbers of employees across both the United States and the world who are now working at home. Not only is working from home increasing, but there is a decrease in general activity as people reduce time spent in public, in gyms, or even doing outdoor exercise. Many at-home employees are wondering different ways that they can increase their activity if they work at a primarily sedentary desk job. Thus, there has been an increase in demand for home exercise equipment and especially equipment that can be utilized during the workday.
How Are Treadmill Desk Attachments Different From Other Similar Products?
A treadmill desk attachment is different from an under-desk treadmill or a traditional treadmill desk. Instead, a desk attachment is a desk that is fitted onto a regular treadmill. This means that the desk attachment can be added and removed as the user sees fit. For example, someone may use their treadmill to go on a run before work, then use the desk attachment to get steps in during the workday. Treadmill desk attachments are typically sold separately from the treadmill themselves and come in varying sizes. They typically can fit a standard size work laptop, as well as added space for paperwork, water bottles, or anything else that may be on your usual work station.
In contrast, an under-desk treadmill is a treadmill without a console or any upright rails and can fit underneath a desk, while a traditional treadmill desk does not have the removable desk feature. For those who already own a treadmill and would like to move their workstation to the treadmill for varying parts of the day, the desk attachment would be a better investment as it is more affordable than buying an under-desk treadmill or treadmill desk.
Can I Create A DIY Treadmill Desk Attachment?
When "treadmill desk attachment" is looked-up on a search engine, there are many websites, videos, and articles that discuss "DIY" treadmill desk attachments. This typically includes constructing a shelf, made out of wood or any other material you have on hand or can acquire easily screws, and bungee cords. Different DIY tutorials may require different materials. If you are savvy with construction, a DIY treadmill desk attachment may be something that can be done. Be sure to look up tutorials that others have completed successfully and used on their treadmills safely. Also, beware that a treadmill desk attachment that works on someone else's treadmill may not work on your own. Understand that constructing your own treadmill desk attachment comes with risks of injury or damaging your treadmill.
What Are Some Benefits Of A Treadmill Desk Attachment?
Treadmill desks are a fabulous way to get more movement throughout the day and could help reduce health issues that come with sedentary lifestyles (e.g., heart disease, diabetes, stroke, etc.). Strengthening muscles and bones is another benefit of using the treadmill desk attachment, as walking on treadmills help to strengthen both the legs and the cardiovascular system. However, financial constraints are certainly present during the coronavirus pandemic. Ask your employer if they may be willing to pitch in for a treadmill desk attachment for your home work station. If not, going on frequent walks throughout the day outside (when possible) is an excellent way to continue to improve health.
What Are Some Drawbacks of Treadmill Desk Attachments?
Some jobs may not be suitable for a treadmill desk attachment, especially careers that involve a lot of equipment that may fall off the attachment and cause injury or damage to the treadmill. Additionally, some jobs may require thorough attention to detail in which a treadmill desk attachment may take away from focus. It is important to examine your work-at-home situation before embarking on acquiring a treadmill desk attachment.
Using a treadmill desk attachment can be a great way to stay active while working from home. Make sure you are being safe and using all safety precautions while working and walking or creating your own DIY treadmill desk attachment.