As we have reviewed many different pieces of exercise equipment over the years, we here at Treadmill Reviews have developed a quick sense of when a piece of equipment hasn't been changed all that much. And when it comes to the Echelon Smart Connect Bike EX3 Max, there isn't much of a difference between this bike and the Echelon Smart Connect Bike EX1.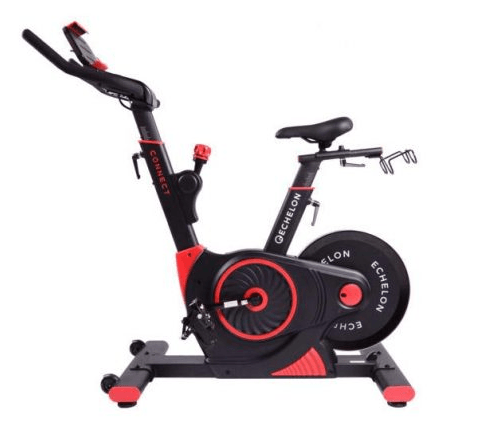 Some of the few differences between these bikes are small changes, such as lines where you can adjust the height of the seat and console for more accurate adjustments. Echelon also changed the seat itself and where the dumbbell holder was located. Also, levers were put in instead of knobs in a couple of places. Other than that, there really are no other differences worth mentioning.
With so little to set the EX3 Max apart from the EX1, if you have been considering an Echelon bike, we would recommend you look at the EX1 over the EX3 Max. Not that the EX3 Max is a bad bike, just that it is a minimal upgrade from the EX1.
Echelon EX3 Max Pricing Package
If you are interested in purchasing the EX3 Max, you have three different purchase packages available for you to choose from. We have listed them below to help you assess which is right for you.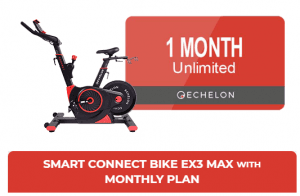 $1,039.98
Smart Connect Bike EX3 Max
Monthly subscription
(no financing available)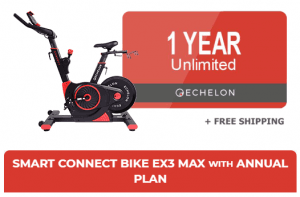 $1,399.98
Smart Connect Bike EX3 Max
Annual subscription
Free shipping
(financing available)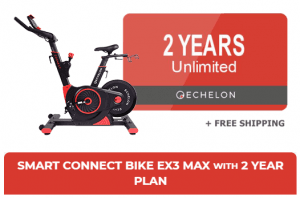 $1,599.98
Smart Connect Bike EX3 Max
2-year subscription
Free shipping
(financing available)
You will also be prompted to choose add-ons onto your overall purchase. There is no need to add anything onto your purchase, but if you want to buy shoes, mat, water bottles, or other things, you can during the checkout process.
The Echelon EX3 Max Is A Great Tool For:
Low-impact cardio for weight loss
Excellent for cross-training
Those who want a personal trainer's help
Apartments or homes without much room
Standout Features:
Light, yet sturdy exercise bike
Echelon Fit workout subscription app
Has 32 resistance levels
Stylish design
Machine Specs:
Footprint – 59″ L x 23″ W x 53″ H Footprint
Weight – 105 lbs
User Experience:
As you look over the various features on the EX3 Max exercise bike, you will likely notice that there are many similarities between this bike and the Echelon EX1. That's because they are incredibly similar. This sameness is reflected somewhat in the pricing, which isn't all that different from one bike to the other as well as in the features.
Bring Your Own Display – Like with the EX1, the EX3 Max stationary bike also does not come with a console to control the bike. Instead, you need to connect your own tablet or smartphone to the EX3 Max and have it act as a display and console for you. With a starting price of $1,039, we would expect to at least have a basic LED or LCD display as well as a mounted tablet holder, but it is not the case with the EX3 Max exercise bike.
Also, not just any device will work. If you have an Apple device, it needs to have iOS 9.0 or further updated software. As for Android devices, 6.0 or later software updates need to install before the Echelon Fit app will run.
Tablet Holder – In place of a console, you have an adjustable tablet holder. Echelon claims that it can hold a device of any size, and it was able to hold our devices that we tested it with. But, if you use a phone to control the EX3 Max, it will have to stay in a vertical position, which isn't the easiest way to watch your workouts.
Echelon Fit App Subscription – Offering live studio classes for a boutique cycling class feel all from the comfort of your home, the Echelon Fit app is one of the biggest draws for getting an Echelon bike. There are several levels of subscription when it comes to Echelon bikes:
Unlimited Monthly FitPass Classes ($19.99)
Unlimited Monthly FitPass + Live Classes ($39.99)
Unlimited Yearly FitPass Classes ($199.99)
Unlimited Yearly FitPass + Live Classes ($399.99)
Unlimited 2-Year FitPass Classes ($399.99)
Unlimited 2-Year FitPass + Live Classes ($599.99)
As you can see, there are unbundled versions of the longer subscription, so if you are alright with only having one type of classes, you can pay for that version.
32 Resistance Levels – Go from 0-32 resistance levels as you use the resistance knob. On the EX3 Max, there should be lines to help guide you on how much resistance you have built up, which can help the adjustment if you haven't used manual resistance knobs before.
33-LB Magnetic Resistance System – The resistance system is a magnetic system and is connected to the 33-lb flywheel. With the heavier flywheel, you can have a more natural cycling experience.
Pedals With Toe Cage – You can use any closed-toe workout shoe on the EX3 Max, as it comes with an adjustable toe cage around the pedals. There is no way to clip in and cycle, which may be a deterrent for experienced cyclists.
Multi-position Handlebars – Depending on your riding style and how active you are, there are several convenient positions you can take when using the EX3 Max handlebars.
Weight Capacity – A max weight capacity of 300 lbs comes with the EX3 Max stationary bike. With this weight limit, those who are of a higher weight can easily use this bike to help them on their weight loss journey, as it provides access to low-impact cardio.
Warranty – There is only a 1-year warranty paired with the EX3 Max, same as with the EX1. You can buy an extended warranty for $99 for 1 year or $199 for 3 years.
USB Port – Since running videos on any device can be taxing on the battery, the EX3 Max comes with a USB port that you can use to keep your device charged. That way, you don't have your device run out of battery mid-workout.
Power Requirements – To power the EX3 Max stationary bike, you need to provide 100V-240V with a range of 50 Hz to 60 Hz of electricity.
Ease of Use – Using the bike is simple enough, as it runs smoothly as well as quietly. The trick is getting your device to connect with the EX3 Max. First, you need to be sure that your device is compatible with the bike. Once that is done, you will need to make sure your version of the app is updated to the latest version.
Quite a few of the people who use the app have struggled with connecting their app to their bikes, and we found that at this time, the Echelon Fit app doesn't record normal ride stats, only class workout details. That falls pretty short of what other exercise bikes like the Peloton Bike or NordicTrack Studio Cycle bikes.
But, once you get the app to work correctly and sync with the EX3 Max, using the bike and accessing the classes is easy.
Machine Assembly – As this is a light exercise bike, it can be assembled by one person without much difficulty. However, the machining of the parts isn't always the best, and it can be difficult to fit things where they are meant to go. You may need to be patient with assembly, but much of the EX3 Max come assembled, so it isn't too bad.
Overall, if you are interested in one of the Echelon exercise bikes, we would recommend the EX1over the EX3 Max, as they are practically the same bike and even feel the same in use.
Read About Other Stationary Bikes: